Numerous visitors, Greeks and foreigners, come at Spetses every September to attend the glorious celebrations of Armata", that last for a week, and are being organized in memory of the sea battle of Spetses (8 September 1822).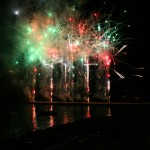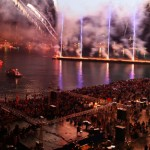 The annual reenactment of this ship-battle is dramatized in the island of Spetses and specifically at the entrance of the Main Harbor every September 8th, or at the closest Saturday to this date. The reenactment is consisted mostly by setting fire to a model of the Turkish flag-ship.
It is strongly believed that the good result of the battle was very much due to the help of Virgin Mary, as it happened on the same day of Her Holiday. Thus, the festival of the reenactment was named after the local holiday of Virgin Mary, "Armata".